The Philippine Veterans Bank (PVB) invites everyone to join the Ride for Valor, a bike-for-a-cause event on March 5, 2023 to raise funds for the maintenance of the Bataan Death March markers and other World War 2 heritage sites.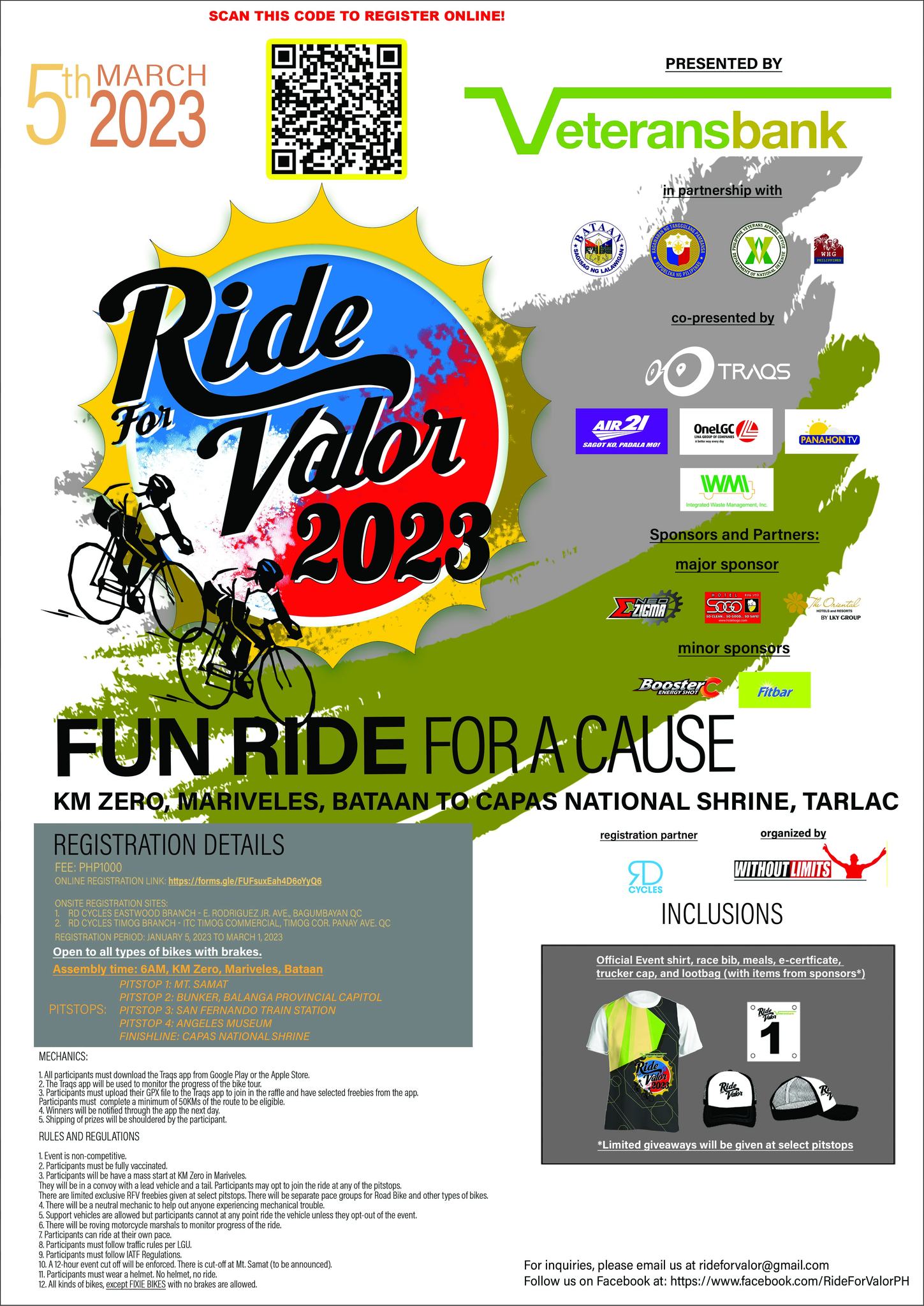 Mike Villa-Real, PVB first vice president for marketing and communications, said the event, which is in partnership with the Department of National Defense, Philippine Veterans Affairs Office, Provincial Government of Bataan and Wartime Heritage Guild-Philippines, aims to preserve the legacy of Filipino and American soldiers who fought for freedom and democracy during World War 2.
The Bataan Death March is a somber reminder of the bravery and selflessness of Filipino veterans during the Second World War. It is an essential part of Philippine history and culture, and the Ride for Valor is an important way of honoring the veterans and preserving their legacy. Plus rider get to learn more about this historic event as they will be be traversing the actual route of the Death March; he said.
The ride is open to fully vaccinated cyclists and all types of bikes with brakes.
Villa-Real said the event will start at 6 a.m. from the Kilometer Zero in Mariveles, Bataan, to Capas National Shrine in Tarlac.
The non-competitive bike ride will have four pitstops: Mt. Samat, Balanga Provincial Capitol's The Bunker, San Fernando Train Station, and Angeles Museum. Giveaways will be given in selected pitstops.
Villa-Real said participants may ride at their own pace, adding there will be a 12-hour cut-off during thee vent.
He noted that the event will also implement a ;No Helmet, No Ride; policy to ensure the safety of the participants.
Villa-Real also said a mechanic will be available to help those who encounter mechanical difficulties, while roving marshals will be present to keep track of the riders; progress. Support vehicles are allowed, but riders should only ride in the vehicle if they choose to drop out of the event.
The registration fee for the Ride for Valor is P1,000, which includes an official event shirt, a race bib, at rucker cap, a loot bag, an e-certificate, and meals.
Interested individuals may register online at
bit.ly/rideforvalor2023
until March 1, while groups may email rideforvalor@gmail.com.
Participants may also register onsite at RD Cycles Libis Branch and RD Cycles Timog Branch.
Those who will join the bike ride must download the Traqs Philippines app to enter the event.
Prior to the bike ride, we will be raffling off an overnight stay for lucky joiners, and on March 5, we will be giving two bikes as well as hotel gift checks and other exciting prizes to our raffle winners,; Villa-Real added.
Organized by Without Limits PH – IGEM, Ride for Valor 2023 is co-presented by Traqs Philippines, OneLGC, AIR21, Panahon.TV, and the Integrated Waste Management Inc. Sponsors include Neo Zigma PH, Hotel Sogo, Booster C Energy Shot, and Fitbar.
The Bataan Death March is one of the darkest chapters in Philippine history, where around 80,000 Filipino and American soldiers were forced to march more than 100 kilometers in grueling conditions by Japanese forces in 1942.
Thousands of soldiers survived but many also died due to starvation, dehydration, diseases, and the brutality of Japanese captors. The markers serve as reminders of the tragedy and heroism that occurred during that period.
PVB is a private, commercial bank owned by World War 2 veterans and their families. With Its new Charter signed into law, the Banks ownership now includes Post War Veterans and AFP Retirees.
For more information about the event, follow Ride for Valor on Facebook at