MARCH 31, 2020 – Mega Global Corp., makers of Mega Sardines, has extended a helping hand in the national effort to combat Covid-19, undertaking various initiatives intended to ease the burden of its employees, local communities, healthcare institutions, and the government amid the pandemic. 
Since the start of the health crisis, the Philippines' largest sardine fishing and canning operator has taken steps through the Mega Tiu Lim Foundation to provide around PHP50 million in aid to the community and to its employees. Internally, Mega Global has implemented a safety net to ease the struggles of its workers who have kept company operations running smoothly despite the challenges and risks posed by the enhanced community quarantine to the mobility of people and raw materials.
Mega Global also recognizes the selfless efforts of our country's frontliners during this time of crisis. From health care professionals, security officials, public servants, supermarket staff, to those working tirelessly to provide our basic needs, heroes come in many different uniforms. As a staple brand, Mega Global relies on the unseen frontliners, the merchandisers and supermarket staff to help them continue to keep shelves stocked with essential food products. To help support these frontliners, they provided care packages for merchandisers and for those who work tirelessly from different groceries and supermarkets nationwide.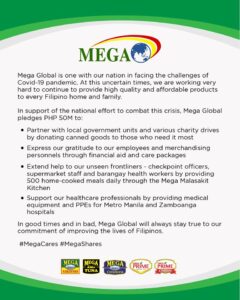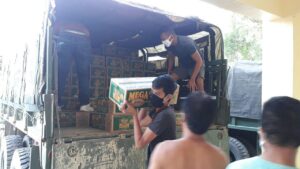 Mega Global opened Mega Malasakit Kitchen which provides 500 meals daily to support the unseen frontliners like those manning checkpoints, supermarkets, and barangay health offices. This program is partnered with different groups such as Lin's Kitchen, Doña Maria, Ideal Macaroni, Lemon Square Lava Cake, 3J Plasticworld and Mtg. Corp., Fishta Seafood, Fish 'n Chix, and Rizons ICA Batch '97.
"These are very difficult times for the whole world, but Mega Global recognizes that it has a moral responsibility to provide support to the greater community. We have been busy with our own efforts and in helping others with their initiatives. We are making sure that our frontliners are taken care of, our logistics is still unhampered, and we are calibrating operations for maximum output. Through our humble contributions, we are confident that we can keep the Bayanihan spirit alive. In good times and in bad, Mega Global will always be here to keep the Filipino community strong," said William Tiu Lim, CEO of Mega Global Corporation.
There is no telling when the CoVID-19 pandemic will end, but Mega Global believes that each day is an opportunity for everyone to do their part. The company has donated canned goods to various charity drives, LGUs, and other organizations. Aside from the current programs of the company, it pledges to help hospitals with medical equipment in Metro Manila and Zamboanga.
"Rest assured, that no matter how uncertain times may seem, Mega Global will always be one with the
Filipino as they face and overcome any challenge. We commit to do the best we can to keep on catching, producing and distributing our canned food products to the Filipino people in these times", added Tiu Lim.
###