Allianz PNB Life, one of the leading life insurance companies in the Philippines, is excited to announce that RiteMED, one of the most trusted pharmaceutical companies in the Philippines, is its newest partner for the Allianz Healthbox. This partnership further enhances the health and wellness offerings available to all Allianz PNB Life Health customers.
Allianz Healthbox is a one-stop shop for healthcare, lifestyle, and wellness needs. All Allianz PNB Life customers are entitled to exclusive perks from Allianz Healthbox partners. "Nowadays people are realizing how important it is to take care of well-being. At Allianz PNB Life, we support our customers' health journey beyond health protection products. Healthbox has been our means to provide extra care for clients through the benefits offered by our partner brands," said Leonardo Tan Jr., Chief Product Provider Officer at Allianz PNB Life. He added, "Our partnership with RiteMED provides customers with convenient access to affordable maintenance medication. It boosts the value-added offerings of our over 50 partners who continue to empower our valued customers in safeguarding physical health and peace of mind."
Thanks to this partnership with RiteMED, Allianz PNB Life Health customers can now purchase from the RiteMED Tamang Alaga online store and enjoy a range of medicines, discounts and freebies.
Allianz Healthbox also offers well-known health and lifestyle leaders such as:
• Free Teleconsultation from KonsultaMD
• Free In-Clinic Consultation from MyHealth
• Free Gym Access from Anytime Fitness
• Free Mindfulness Meditation Workshop from Whitespace Wellness
• Free Eye Scan from Asian Eye Institute
You can also visit https://www.allianzpnblife.ph/healthbox.html to learn more about Healthbox partners freebies and perks.
This partnership solidifies Allianz PNB Life's commitment to prioritizing the overall health and well-being of its customers. As more partners join the Allianz Healthbox network, we are further strengthening our comprehensive healthcare solutions to cater to the diverse needs of our valued customers. "At Allianz PNB Life, we go beyond health protection. We, together with our Life Changers, are here to support the customers in their health and wellness journey," emphasized Christopher Cabognason, Chief Distribution Officer. "That is why we offer innovative and customer-centric services that go beyond traditional insurance coverage. We believe in nurturing strong partnerships with other leading organizations in various industries, so that we can deliver value-added benefits and top-notch customer experience. Together, let's safeguard your well-being and embrace a healthier future."
Our dedicated Allianz Life Changers are available at our Life Track Stations at PNB branches nationwide, ready to help you identify the life and health protection that you need. You can also visit: https://www.allianzpnblife.ph/healthbox.html for more information.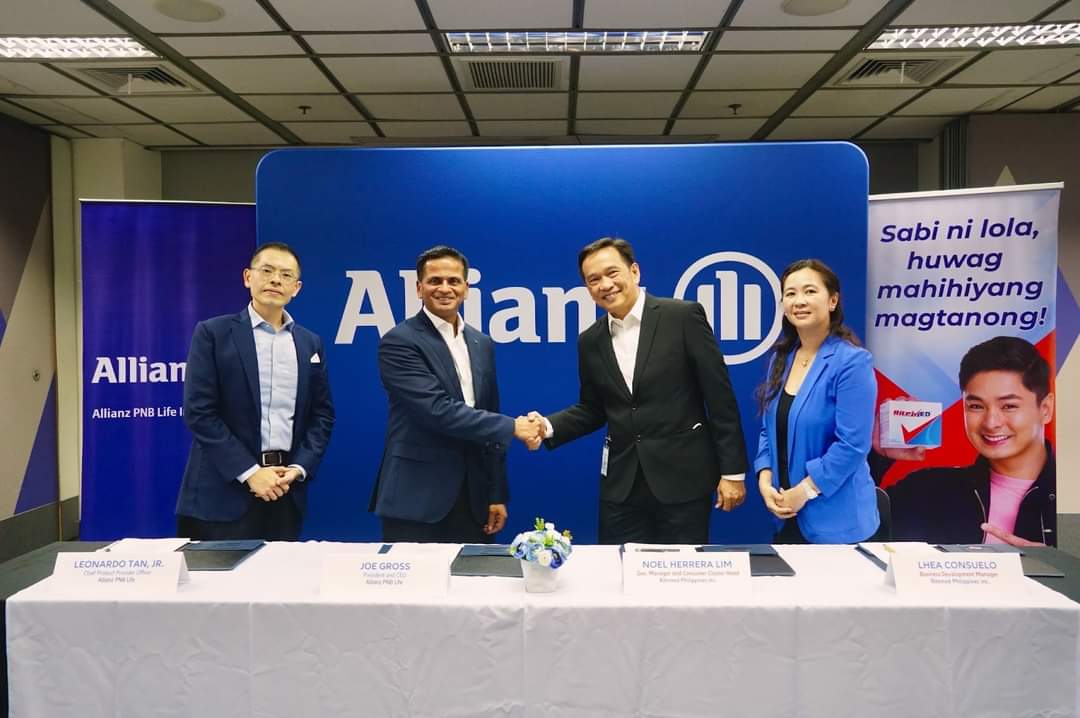 Present at the signing of partnership between Allianz PNB Life and RiteMed Philippines, Inc. from L-R: Leonardo Tan, Jr. (Chief Product Provider Officer, Allianz PNB Life), Joe Gross (President and Chief Executive Officer, Allianz PNB Life), Noel Herrera Lim (General Manager and Consumer Cluster Head, RiteMed Philippines Inc.), Lhea Laurel (Business Development Manager, RiteMed Philippines Inc.)